We'll Buy Your Columbia Home Fast With Cash
We're a local Columbia company that can buy your house in ANY condition, regardless of what you OWE or if you're in foreclosure.
Fill Out the Form Below to Get Your Free Cash Offer
We Buy Houses in the Midlands - In Any Condition
---
We buy houses in the Midlands in "as-is" condition. If it's time for you to sell your house fast in the Midlands, then look no further. We are trusted cash home buyers in the Midlands and we buy houses for cash - no hidden fees or strings attached. You can sell your house in the Midlands fast to us exactly as it is, and we will still pay you a fair cash offer.
When you sell to Simple Home Exits, you'll save time and money. It's a simple, hassle-free process. Plus, there are no realtor fees or commissions to worry about. You can sell your house in the Midlands fast without using a realtor!
Selling a home in the Midlands can be a time-consuming and discouraging process, and one that many homeowners don't want to deal with. However, at Simple Home Exits, we help make the process easy so that you can sell your home fast and get on with life.
So what do you have to lose? Start your journey with Simple Home Exits today.
---
Just Follow Our Simple 3-Step Process Below to Get Started!
The Simple Home Exits 3-Step Process
---
Schedule A Visit
We'll explore all options with you. No Hassles. No commitments.
Get a Cash Offer
Get a no-obligation offer that fits your needs. No repairs. No commissions
Accept & Get Paid
We close on your time frame
We Want to Buy Your the Midlands Home - No Strings Attached
---
Have you tried to sell your home in the Midlands, but you've hit some roadblocks along the way? If you've found yourself in this situation, then you've probably turned to a real estate agent. But, this isn't always the best option when you want to save money and you need to get out of your home fast. That's where we step in. We buy houses in the Midlands with cash, which means we are able to close quickly and on your schedule. When you work with Simple Home Exits, there's no more waiting around for months for your house to sell or for the bank to approve your loan.
Do you want to know the best part about working with us? There are no hidden fees, closing costs, or appraisals involved. This is why hundreds of happy clients have chosen to work with us. We make the home selling process pain-free!
Sell your House Fast in the Midlands in Any of These Situations
---
No matter your situation, we will help you sell your house fast in the Midlands! We buy houses in any condition or price range for cash. We make it easy to sell your house fast, and you don't have to worry about making repairs. We buy houses in the Midlands in any condition.
---
Inherited Properties
Relocating
Upgrading
Downsizing
Facing Foreclosure
Major Repairs Needed
Divorce
Bankruptcy
Health Issues
Old, Outdated Houses
New Houses
Storm Damage
Fire Damage
Termite Damage
Full of Stuff or Trash
Major Repairs Needed
Problem Tenants
Unfinished Construction
Financial Issues
Title Issues
Code Violations
Hoarder Home
Low Equity
Large Liens
Out of area property
Family Matters
Late on Mortgage Payment
We Pay All Cash
Because we pay cash, we can be flexible and close on your time frame. We don't need to wait for an appraisal or lender approvals.
Easy & Clear Terms
We make this a simple, straightforward and easy to understand process for you.
We Do the Paperwork
We use a licensed and insured real estate attorney and we will make sure the details are taken care of, so you don't have to.
Zero Fees
You won't have to pay any title or closing costs.
You won't have to fix or clean anything! We will buy your home the way it is.
Close in Days
We can close in as little as 3 days.
Here's What We Can Do For You.
You'll pay NO fees and NO commissions when we buy your house. We pay ALL closing costs associated with the transaction.
We are a local Columbia company that can buy your house in ANY condition. You'll pay ZERO real estate commissions or buyer closing costs. We can close with cash whenever you choose, from next week to 6 months from now. You get to choose!
We've been buying homes for 10 years and have bought hundreds of homes. We like to solve problems for our sellers and create win-win situations!
We can get CASH in your hands within a few hours or days of you contacting us. We can close super fast!
"Simple Home Exits is an excellent company to work with! They made the process quick, simple, and worry-free. Everyone was honest and open from start to finish. I would highly recommend this company!"
– Mariah C
"I'm so glad I called Simple Home Exits, the property I inherited was vacant and a mess. I had no money to fix it up and needed to sell quickly. Simple Home Exits gave me a fair cash offer on the spot, paid costs and closed in two weeks! I saved thousands in fees, didn't have to fix up the property to sell it and actually got a better price than my neighbor did selling with a real estate agent."
–Andrea C.
"We had such a great experience with Simple Home Exits! They bought our house very quickly and the process was seamless! I wouldn't ever choose anyone else to sell a house to! I would HIGHLY recommend Simple Home Exits in the future!"
– Amy B
You can sell fast with no rush to move. You don't have to move out right away, you can stay in your home for a while until you locate another house.
We are accredited with the Better Business Bureau and this is the real deal. We are confident that we can help you today — regardless of the situation.
Talk to you soon,

FILL OUT THE FORM BELOW TO GET YOUR FREE CASH OFFER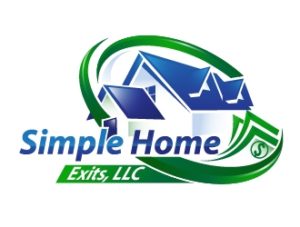 Copyright © 2019. Simple Home Exits 7320 Broad River Rd, Suite K-259 Irmo, SC 29063